Solar Refuge Beacon (PolarisV2)
PolarisPTM ™
The only fully Highways compliant Post Solar Powered Refuge Beacon on the market today.
Branching out from our own SolarisPTM™ through beacon, the PolarisPTM was born consisting of our robust Aluminium Gallery and Polyethylene Pearl Globe, this spin off of our Mains Refuge range allows even the remotest of locations to have a central reservation.
*This beacon is not suitable for installations in and around tall buildings and trees that can block the sunlight from reaching the Solar Panels*
To request a Data Sheet please email info@fisherandcompany.co.uk
Part No. FSBB2016PTM/Refuge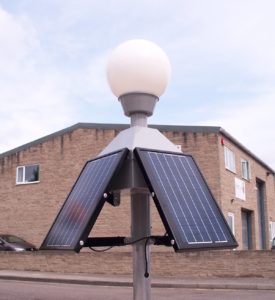 Provides years of maintenance free operation
6No. 1w LEDs consume 4w of power per hour – 6No. LEDs in reserve in case of LED failure
 IP54, 300mm Pearl Polyethylene Globe and robust Aluminium Gallery
 2No. 20-watt Photovoltaic Panels
 2No. 12v, 14Ah Batteries housed in insulated enclosure with full on-site battery monitoring via LCD display
Option of Post Top Mount version or Through Beacon version with Flange Fixing Cover Plate option available on Through Beacon.
 Luminance compliant
 Fully Highways Complaint
 Auto dimming at night to save power
 Automatically operates 24/7/365 with 14 days autonomy
 L70 – 80,000 hours LED Beacon, 5+ years expected battery life, can be easily replaced on site
 DST – Daylight Saving Time Function for the UK, Europe, the USA, Australia and New Zealand
 Zero energy and CO2 emissions – keeping your carbon footprint clean
 Quick and easy installation
 Cost effective replacement for conventional Refuge Beacons due to cable faults
 Programmable On/Off time function – ideal for business hours operation only, off peak situations and shop open hours, etc.
*Please note our 3 year warranty is a return to base warranty only and will be void if any damage caused by the customer to the Solar unit, Control Box or Batteries is found on inspection*