We have a selection of Fisher & Company Campsite hook ups now available in our Bargain Basement. Each one has been manufactured in our specialised workshop to guarantee the highest quality build. We are proud of our service pillars which are second to none when it comes to the vital factors including practicality, durability and aesthetics.
Each of the 6 pillars we have to offer come with a 4No.IP67 Panel Socket. For added protection, the sockets are individually covered by a 16A MCB. To protect against earth faults, each pair of sockets features 2 No.40A 30mA RCD's alongside MCB's houses in an IP65 Enclosure for easy access in the event of a trip.
They are constructed using a strong, durable Marine Grade Aluminium and finished with a textured powder coat finish. This enables them to stand for extended periods of time in different weather conditions without the risk of external damage. As an added bonus, these service pillars will be supplied with a 300mm deep galvanised root section for secure installation.
Internally, they are illuminated by a 10w LED lamp with 4 polycarbonate light diffusers.  These integral lights are fully controllable by a photoelectric cell. Finally, they each boast a 100AMP Double Pole switch disconnector which is secured in place behind the access door with 2 tri-head locks.
For use in a variety of different industries, give us a call or drop us an email for an accurate price.
5no. Available
Colours available – 4 Blue & 1 Green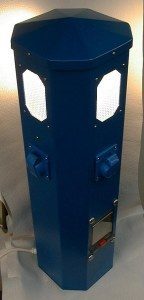 "Perfect for Caravan & camping Parks"