Shove-Holer Insulated Digging Tools
Digging head manufactured from 3mm Stainless Steel plate welded to thick wall steel tube with sleeved and heavy duty pivot pin which eliminates twisting action with Heavy Duty Steel tube socket for Pulwound Fibre Glass handles for extreme strength. Electrical Insulation Tested to BS EN 60900. Handles are through pinned to socket and pins welded in place.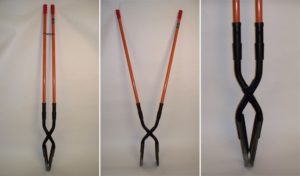 Fisher & Company Heavy Duty Shove-Holer
The Fisher & Company shove-holer is ideal for heavy ground and installing lighting cables etc. Handles are made of fibreglass and provide complete protection and insulation against accidentally slicing through a buried electrical cable. Digs a 10″ minimum diameter hole.