Fisher & Company GRP Cabinets provide quality, durable and corrosion resistant protection for low voltage electrical distribution up to 1000v. British manufactured and designed to IP54, our cabinets are Ingress Protected against dust and water to suit most standard applications.
GRP Cabinets are approved to The Loss Prevention Certification Board (LPCB) – the leading international Certification Body in the fields of security and fire protection.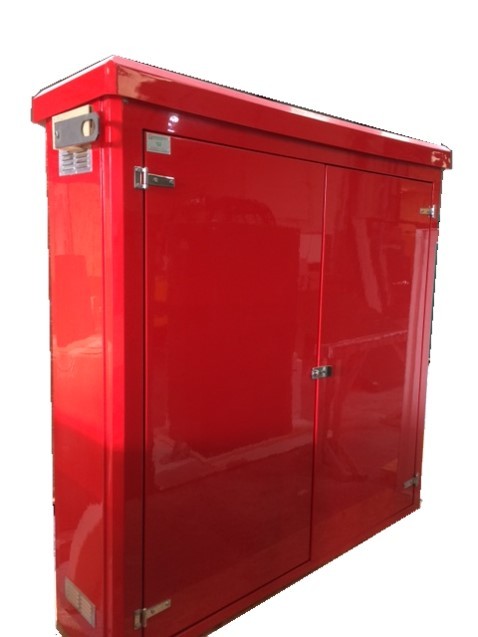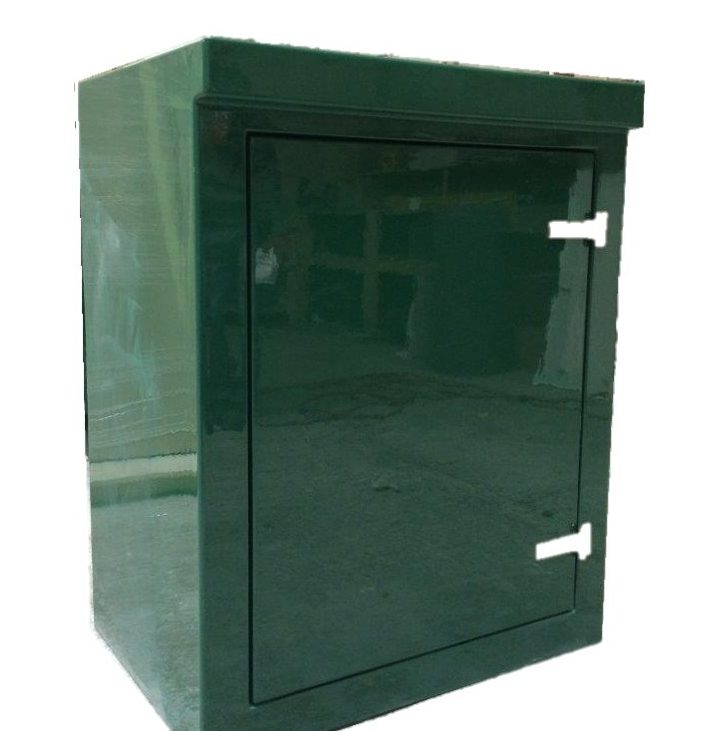 Construction
GRP Cabinets are comprised of a Single Skin GRP construction throughout the walls and roof, giving a Maximum 'U' value of 3.0W/m² °C.
Our larger Double Door Cabinets are also available with a GRP/12mm Plywood/GRP Composite construction throughout the walls and roof, giving a Maximum 'U' value of 2.2W/m² °C
Fire Resistance
Standard Wall construction has been designed and tested to BS476 Part 22 and exceeds a half hour fire rating. Fire retardant resin is used internally to provide a self-extinguishing laminate to BS476 Part 7 Class 2 (Surface spread of flame).
Doors
Encapsulated Steel Reinforced, High Security Doors fitted with Stainless Steel Hinges, and Cylinder Night Latch locking or Stainless Steel Hasp & Staple. Double Door Cabinets come with 2No. Stainless Steel Spring Tower Bolts
Backboard
Cabinets come with 18mm Treated Plywood Backboard as standard. Within our smaller cabinets, they are set into the mould and encapsulated in GRP, making the cabinet look empty. The backboard is there, we promise.
Base
Single Door Cabinets are manufactured with a Single Skin GRP Floor. Double Door Cabinets are manufactured with a 100mm internal fixing flange.
Finish
Internal Finish, Matt GRP White. External Finish, Semi-Gloss Smooth Gel Coat in either Green (14-C-39) or Grey (10-A-07) as standard. Other BS or RAL colour are available on request and will incur a surcharge.
Optional Extras
Aluminium Louvre Vents in various sizes
Lockable Access Flap (Cat-Flap)
90° Stainless Steel Hold Open Door Stay
Padlockable 3 Point Lock
Galvanised Steel Root Section (Made to Order)
Email us for our GRP Cabinets Data Sheet at Info@fisherandcompany.co.uk
Single Door, Single Skin Cabinets
| Part No. | Width mm (External) | Depth mm (External) | Height mm (Clear Internal) | | Backboard mm (w x h) |
| --- | --- | --- | --- | --- | --- |
| FC0 | 340 | 200 | 860 | | 265 x 760 |
| FC1 | 465 | 330 | 635 | | 365 x 635 |
| FC2 | 580 | 400 | 650 | | 425 x 610 |
| FC3 | 500 | 400 | 1250 | | 500 x 1250 |
| FC4 | 670 | 340 | 930 | | 670 x 930 |
| FC5 | 600 | 300 | 1500 | | 500 x 1220 |
| FC6 | 750 | 400 | 1250 | | 750 x 1250 |
| FC7 | 935 | 600 | 1160 | | 790 x 965 |
| FC8 | 945 | 470 | 1150 | | 945 x 1150 |
| | | | | | |
Double Door, Single Skin Cabinets
| Part No. | Width mm (External) | Depth mm (External) | Height mm (Clear Internal) | | Backboard mm (w x h) |
| --- | --- | --- | --- | --- | --- |
| FC9 | 1000 | 500 | 1250 | | 1000 x 1250 |
| FC10 | 1065 | 650 | 1270 | | 915 x 1065 |
| FC11 | 1200 | 1000 | 2000 | | 1080 x 1830 |
| FC12 | 1250 | 500 | 1250 | | 1250 x 1250 |
| FC13 | 1510 | 650 | 1500 | | 1510 x 1500 |
| FC14 | 1750 | 750 | 1675 | | 1750 x 1675 |
| FC15 | 2020 | 500 | 1585 | | 1905 x 1220 |
| FC16 | 2000 | 850 | 1680 | | 2000 x 1680 |
Double Door, Single Skin, Walk-In Cabinets
| Part No. | Width mm (External) | Depth mm (External) | Height mm (Clear Internal) | | Backboard mm (w x h) |
| --- | --- | --- | --- | --- | --- |
| FC17 | 2000 | 500 | 2000 | | 2000 x 2000 |
| FC18 | 2000 | 1000 | 2000 | | 2000 x 2000 |
| FC19 | 2000 | 1500 | 2000 | | 2000 x 2000 |
| FC20 | 2000 | 2000 | 2000 | | 2000 x 2000 |
Double Door, Double Skin, Walk-In Cabinets
| Part No. | Width mm (External) | Depth mm (External) | Height mm (Clear Internal) | | Backboard mm (w x h) |
| --- | --- | --- | --- | --- | --- |
| FC17/DS | 2000 | 500 | 2000 | | 2000 x 2000 |
| FC18/DS | 2000 | 1000 | 2000 | | 2000 x 2000 |
| FC19/DS | 2000 | 1500 | 2000 | | 2000 x 2000 |
| FC20/DS | 2000 | 2000 | 2000 | | 2000 x 2000 |
* Specific/Bespoke sizes available on request – please email info@fisherandcompany.co.uk
Manufactured especially for Fisher & Co in the UK