Introducing Fisher and Company's GRP Cabinets: The Perfect Blend of Durability and Functionality
Fisher and Company stands at the forefront of innovation and quality in the manufacture of GRP (Glass Reinforced Plastic) Cabinets. Our commitment to excellence is evident in every GRP cabinet we produce, making them an ideal choice for a multitude of applications. Whether for industrial, commercial, or residential use, Fisher and Company's GRP cabinets offer a reliable and durable solution for securing and protecting essential equipment and resources.
Unmatched Durability of GRP Cabinets
Resistant to the Elements: Our GRP cabinets are designed to withstand harsh environmental conditions. They are impervious to water, resistant to UV radiation, and can endure extreme temperatures. This makes them perfect for outdoor applications, where exposure to weather elements is a primary concern.
Corrosion-Resistant: Unlike metal or wood, GRP does not corrode or decay over time. This unique property ensures that our cabinets maintain their structural integrity and aesthetic appearance for years, even in challenging environments such as coastal areas or industrial sites with corrosive substances.
Versatile and Customisable Design
Tailored for Your Needs: Fisher and Company understands that one size does not fit all. That's why we offer bespoke GRP cabinets, designed and manufactured to meet specific client requirements. From dimensions to features such as shelving, locking mechanisms, and ventilation systems, our cabinets can be tailored to suit a wide range of needs.
Aesthetic Integration: With a variety of finishes and colours available, our GRP cabinets can seamlessly blend into or stand out in any setting. This flexibility in design ensures that functionality does not come at the expense of aesthetics.
Fisher & Company GRP Cabinets provide quality, durable and corrosion resistant protection for low voltage electrical distribution up to 1000v. British manufactured and designed to IP54, our cabinets are Ingress Protected against dust and water to suit most standard applications.
GRP Cabinets are approved to The Loss Prevention Certification Board (LPCB) – the leading international Certification Body in the fields of security and fire protection.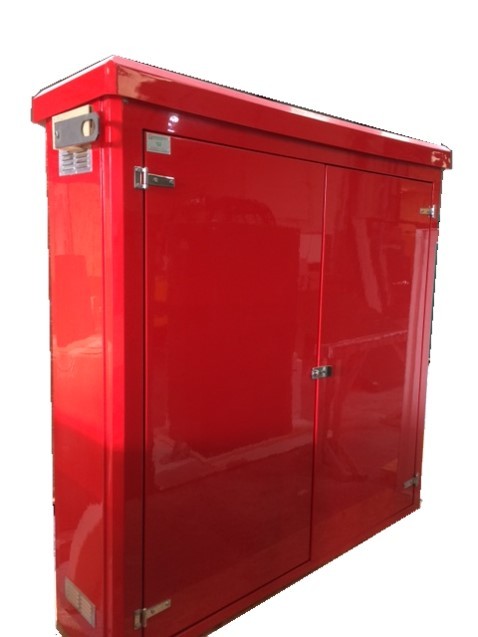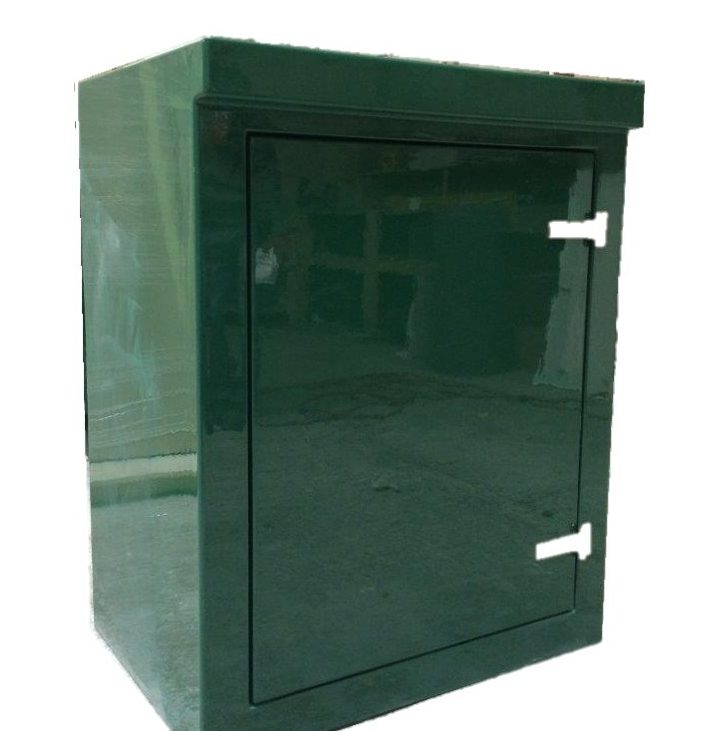 Construction
GRP Cabinets are comprised of a Single Skin GRP construction throughout the walls and roof, giving a Maximum 'U' value of 3.0W/m² °C.
Our larger Double Door Cabinets are also available with a GRP/12mm Plywood/GRP Composite construction throughout the walls and roof, giving a Maximum 'U' value of 2.2W/m² °C
Fire Resistance
Standard Wall construction has been designed and tested to BS476 Part 22 and exceeds a half hour fire rating. Fire retardant resin is used internally to provide a self-extinguishing laminate to BS476 Part 7 Class 2 (Surface spread of flame).
Doors
Encapsulated Steel Reinforced, High Security Doors fitted with Stainless Steel Hinges, and Cylinder Night Latch locking or Stainless-Steel Hasp & Staple. Double Door Cabinets come with 2No. Stainless Steel Spring Tower Bolts
Backboard
Cabinets come with 18mm Treated Plywood Backboard as standard. Within our smaller cabinets, they are set into the mold and encapsulated in GRP, making the cabinet look empty. The backboard is there, we promise. Please note that all backboard sizes stated are approximate dimensions.
Base
Single Door Cabinets are manufactured with a Single Skin GRP Floor. Double Door Cabinets are manufactured with a 100mm internal fixing flange.
Finish
Internal Finish, Matt GRP White. External Finish, Semi-Gloss Smooth Gel Coat in either Green (14-C-39) or Grey (10-A-07) as standard. Other BS or RAL colour are available on request and will incur a surcharge.
Optional Extras
Aluminum Louvre Vents in various sizes
Lockable Access Flap (Cat-Flap)
90° Stainless Steel Hold Open Door Stay
Pad lockable 3 Point Lock
Galvanised Steel Root Section (Made to Order)
Email us for our GRP Cabinets Data Sheet at Info@fisherandcompany.co.uk
Single Door, Single Skin Cabinets
Part No.
Width mm (External)
Depth mm (External)
Height mm (Clear Internal)
Backboard mm (w x h)
Delivery Method
FC1
465
330
635
465×635
Pallet
FC4
 600
 350
 1000
600 x 1000
Pallet
FC6
745
500
1260
750 x 1250
Pallet
FC7
935
600
1160
790 x 965
Pallet
FC8
945
470
1150
945 x 1150
Pallet
Double Door, Single Skin Cabinets
| Part No. | Width mm (External) | Depth mm (External) | Height mm (Clear Internal) | Backboard mm (w x h) | Delivery Method |
| --- | --- | --- | --- | --- | --- |
| FC9 | 1210 | 750 | 1260 | 914 x 1065 | Pallet |
| FC10 | 1065 | 650 | 1270 | 915 x 1065 | Pallet |
| FC11 | 1200 | 1000 | 2000 | 1080 x 1830 | Pallet |
| FC12 | 1215 | 500 | 1260 | 1215 x 1260 | Pallet |
| FC13 | 1510 | 650 | 1500 | 1450 x 1420 | Pallet |
| FC14 | 1750 | 750 | 1675 | 1710 x 1520 | Pallet |
| FC15 | 2020 | 500 | 1585 | 1905 x 1220 | Pallet |
| FC16 | 2000 | 850 | 1680 | 1960 x 1520 | Pallet |
Double Door, Single Skin, Walk-In Cabinets
| Part No. | Width mm (External) | Depth mm (External) | Height mm (Clear Internal) | Backboard mm (w x h) | Delivery Method |
| --- | --- | --- | --- | --- | --- |
| FC17 | 2000 | 500 | 2000 | 1845 x 1830 | Pallet |
| FC18 | 2000 | 1000 | 2000 | 1845 x 1830 | Pallet |
| FC19 | 2000 | 1500 | 2000 | 1845 x 1830 | Pallet |
| FC20 | 2000 | 2000 | 2000 | 1845 x 1830 | Pallet |
| FC21 | 2500 | 2000 | 2500 | 2500 x 2500 | Hi- AB |
| FC22 | 2500 | 2500 | 2500 | 2500 x 2500 | Hi- AB |
| FC23 | 3000 | 3000 | 2500 | 3000 x 2500 | Hi- AB |
| FC24 | 2500 | 1500 | 2500 | 2500 x 2500 | Hi- AB |
| FC25 | 2500 | 3000 | 2500 | 2500 x 2500 | Hi- AB |
| FC26 | 3000 | 1500 | 2500 | 3000 x 2500 | Hi- AB |
| FC27 | 3000 | 2000 | 2500 | 3000 x 2500 | Hi- AB |
| FC28 | 3000 | 2500 | 2500 | 3000 x 2500 | Hi- AB |
Double Door, Double Skin, Walk-In Cabinets
| Part No. | Width mm (External) | Depth mm (External) | Height mm (Clear Internal) | Backboard mm (w x h) | Delivery Method |
| --- | --- | --- | --- | --- | --- |
| FC17/DS | 2000 | 500 | 2000 | 1845 x 1830 | Pallet |
| FC18/DS | 2000 | 1000 | 2000 | 1845 x 1830 | Pallet |
| FC19/DS | 2000 | 1500 | 2000 | 1845 x 1830 | Pallet |
| FC20/DS | 2000 | 2000 | 2000 | 1845 x 1830 | Pallet |
| FC21/DS | 2500 | 2000 | 2500 | 2500 x 2500 approx. | Hi- AB |
| FC22/DS | 2500 | 2500 | 2500 | 2500 x 2500 approx. | Hi- AB |
| FC23/DS | 3000 | 3000 | 2500 | 3000 x 2500 approx. | Hi- AB |
| FC24/DS | 2500 | 1500 | 2500 | 2500 x 2500 approx. | Hi- AB |
| FC25/DS | 2500 | 3000 | 2500 | 2500 x 2500 approx. | Hi- AB |
| FC26/DS | 3000 | 1500 | 2500 | 3000 x 2500 approx. | Hi- AB |
| FC27/DS | 3000 | 2000 | 2500 | 3000 x 2500 approx. | Hi- AB |
| FC28/DS | 3000 | 2500 | 2500 | 3000 x 2500 approx. | Hi- AB |
* Specific/Bespoke sizes available on request – please email info@fisherandcompany.co.uk
Manufactured especially for Fisher & Co in the UK