Solar Powered Belisha Beacon (SolarisV2 & SolarisPTM)
Leading the way in Solar Belisha Beacons.
Perfect for Car Parks, Supermarkets, Private Parks, Schools & College Campuses
Utilising our own mains Through Belisha Beacon assembly that consists of our robust Aluminium Gallery and Polyethylene Amber Globe to create a green energy version, reducing your carbon foot print.
*This beacon is not suitable for installations in and around tall buildings and trees that can block the sunlight from reaching the Solar Panels and must be installed within 2 weeks of delivery – Should this be an issue we recommend checking out our budget friendly AmberGlo-8*
To request a Data Sheet please email info@fisherandcompany.co.uk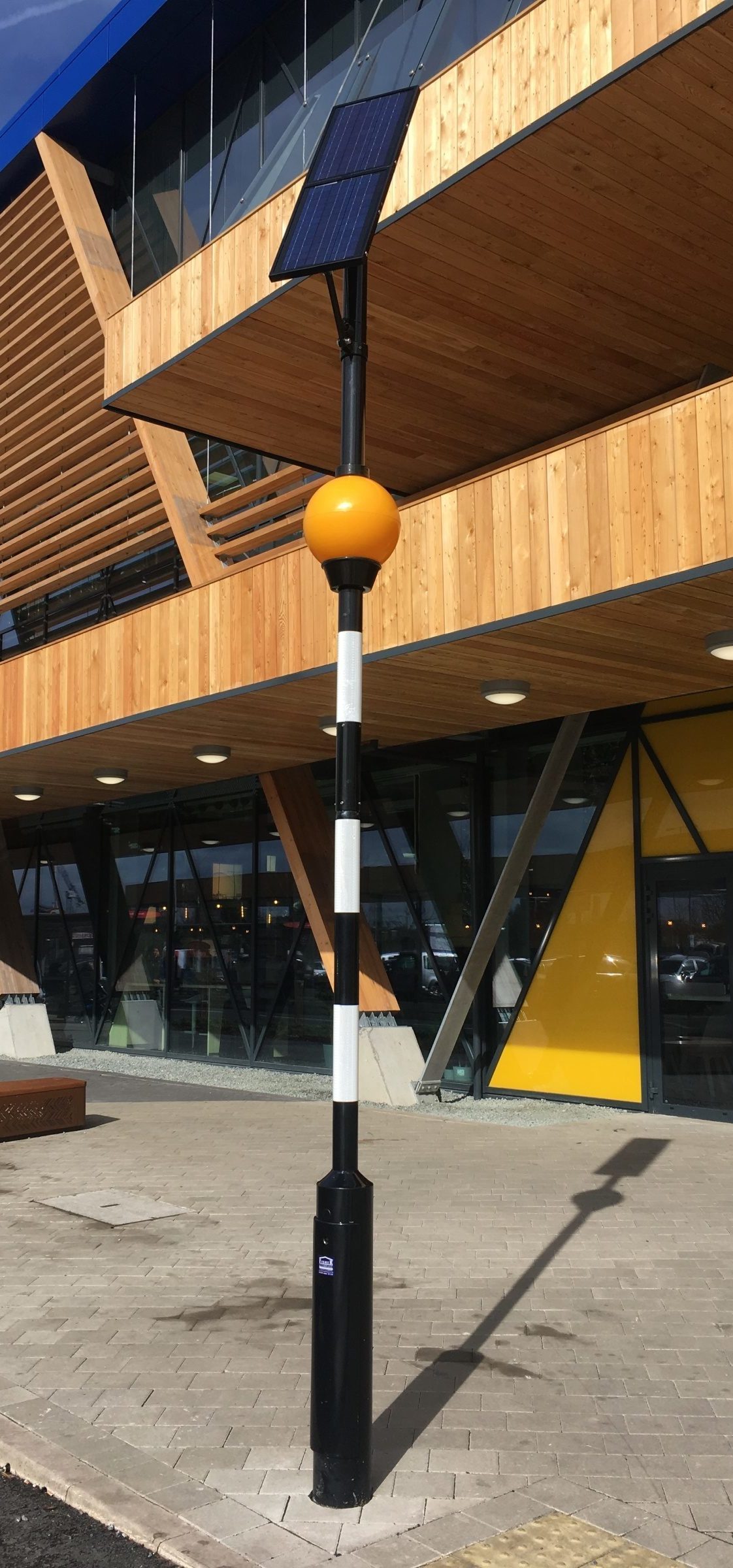 SolarisV2™
Solar Powered Belisha Beacon Specifications
Part No: FSBB2016 V2
 Provides years of maintenance free operation
6No. 1w LEDs consume 4w of power per hour – 6No. LEDs in reserve in case of LED failure
 300mm Amber Polyethylene Globe and robust Aluminium Gallery
 40watt Photovoltaic Panel
 2No. 12v, 14Ah Batteries housed in insulated enclosure with full on-site battery monitoring via LCD display
 4m purpose made column – flange mount or rooted version
 Auto dimming at night to save power
 Automatically operates 24/7/365 with 14 days autonomy
L70 – 80,000 hours LED Beacon, 5+ years expected battery life, can be easily replaced on site
 DST – Daylight Saving Time Function for the UK, Europe, the USA, Australia and New Zealand
 Zero energy and CO2 emissions
 Quick and easy installation
  Cost effective replacement for conventional mains Belisha Beacons due to cable faults/ power shortages
 Flange Fixing Cover Plate – Optional
SolarisPTM ™
Retro-fit Solar Belisha Beacon
 Part No: FSBB2016 V2 PTM
Also available in a Post Top Mount version to retro-fit existing 76mmø Zebra Posts from mains to solar. Our Solar LED Belisha Beacons are perfect for both new builds and upgrades.
This set up comes in two parts; the Main body comprising of;  2no. Batteries, 1no. Control Box, LED, Gallery & Globe, and then the 2no. 20watt panels are boxed separately.
All the fixings to be able to fix the panels onto the main body are included along with full fitting instructions.
"We'd like to thank Fisher & Company for their help and prompt responses and delivery when it comes to their Solar Belisha Beacon. They were quickly and easily installed on the day they were delivered. The management have all commented on how impressed they are with the service provided and the aesthetics and quality of the product." – Andrew Yeomans, Project Engineer, Huhtamaki UK Ltd
*Please note our 2 year warranty is a return to base warranty only and will be void if any damage caused by the customer to the Solar unit, Control Box or Batteries is found on inspection*
**The 2 year warranty is only valid on the Control box, Solar Panels and LED, Globe & Gallery. Batteries come with a 1 year warranty**
To request a Data Sheet please email info@fisherandcompany.co.uk
Manufactured in Somerset, UK